Tour Packages'
1st Gear Package / Learn to Ride
(Minimum 1 Rider) Duration 2 hours @ Aed 1200.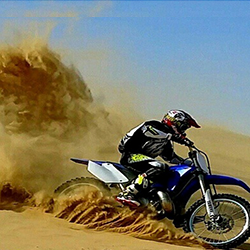 Anyone can ride offroad, anyone can have fun! So let us teach you how to ride properly so you can live life more! Age, Gender, Height, Weight nothing matters. The only thing that matters is your will to have fun!
Top Gear Package / Half Day
(Minimum 1 Rider) Duration 4 - 5 hours Aed 1000 per rider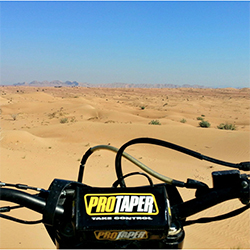 The next level package where you already know to ride a dirtbike in the sand, have the skills and strength to ride 100% and are willing to go deeper in the desert to see the hidden beauty which most people don't. Here you will shred our world famous Big Dubai sand dunes!
2nd Gear Package
(Minimum 1 Rider) Duration 2 or 3 hours.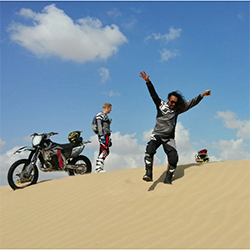 Assuming you already know how to balance, clutch, shift gears on a motorcycle but have never been offroad on a dirtbike. Our fleet of special and cutting edge technology of Christini All Wheel Drive Motorcycles will give you all the fun minus the struggle in the soft sand!
We have two packages in "2nd Gear" for riders who are new to the desert/offroad 2 hours @ Aed 700 and see how you do then depending on your comfort level we can extend it to the 3 hours @ Aed 850 or stay on the same one.
Custom Tours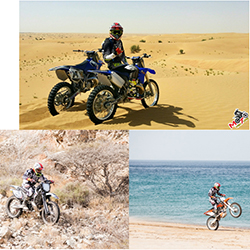 According to your riding skill and your preferences, we can customize a tour for you and your buddies! We have a variety of routes you can choose from, starting from desert, mountains, wadis/valleys and even beach riding, we can also arrange overnighters at either a hotel resort or a desert camp. Please contact us for more details.
Specials:
Desert/Mountain/Gravel ride training if you have your own bike.
Wheelie/ Stoppie/Jump/Air training.
We host team building activities for corporates.
We host family rides. (Motorcycles of all sizes available)
Three Day Motoventure
@ Aed 4500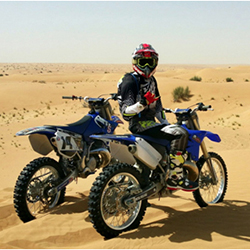 The Big Daddy packages! This covers almost type of riding the entire UAE can offer! Let's take you on a ride that you will not forget anytime soon! From the Flat Sands to Big Dunes, Forests, Rocky Mountains, Wadis/Valleys, River Crossings & Beaches!
All you will need to bring is the thirst for adventure & suitable clothes when you're off the bike.
Everyone is different when it comes to riding off road, We have the experience and the capability to provide you with an epic time according to your skill level.
Our Clients who have done this particular ride have come back to us from different countries to do it again and again, Hope that makes an impressive statement.
What to bring with you:
* As we provide you the riding gear, you will need to get the clothes to wear when you're off the Motorcycle.
* Backup Support:
* Motoventure supports your entire ride, not only with an experienced tour leader but also a support vehicle which will be able to get to you quickly, if any issues come up.
We also provide all meals, Hotel / Desert stays during this ride according to your preferences.
All day Package
(Minimum 1 Rider) Duration 7-8 hours @ Aed 1500 per rider.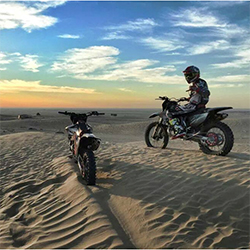 Taking your riding to the next level where you already have enough strength & stamina to ride dirtbike in the sand for long durations and are willing to ride longer.
Let's take you on a whole day of awesome riding in the best UAE outdoors! Based on your preferences & skill level we offer you a wide variety of exciting routes to ride. We can give you loose desert sand, rocky mountains trails, wadis/valleys, river crossings and beaches too!
All our tour packages include:
* A Dirtbike (All Wheel Drive or RWD)
* Complete gear (Helmet, Goggles, Chest & Back Protection, Jersey, Gloves, Kidney belt, Knee & Chin Protectors, Pants, Socks, Riding boots & Camelbacks)
* Fuel
* A well experienced Instructor.
* A picture to remind of your great day out riding with us.
* All meals and hotel stay if you choose an all day ride or longer package.
* A lot of fun!
*** To make it easier for our Clients we offer pickup and drop from your location(In a Rallycar or A big V8 pickup truck)